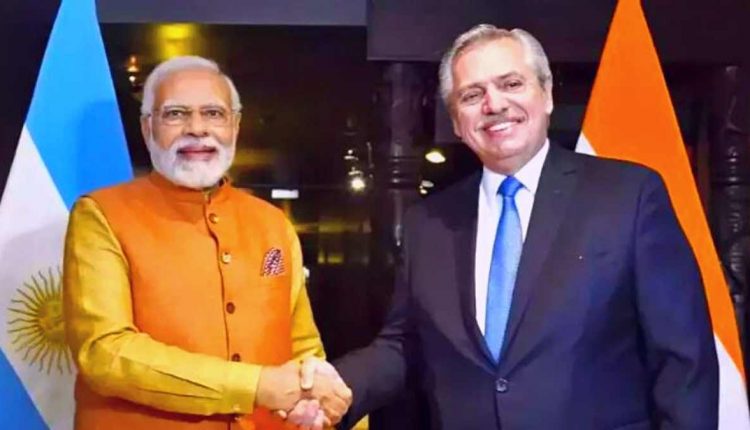 PM Modi discusses food security in first meet with Argentina President
Prime Minister Narendra Modi in his bilateral talks with Argentina's President Alberto Fernandez in Munich on Sunday, discussed ways to increase the commercial and cultural linkages between the two countries. This was the first bilateral meeting between the two leaders.
They reviewed progress in implementing the bilateral 'strategic partnership' established in 2019. "Discussions took place on various issues including trade and investment; South-South cooperation, particularly in the pharmaceutical sector; climate action, renewable energy, nuclear medicine, electric mobility, defence cooperation, agriculture and food security, traditional medicine, cultural cooperation, as well as coordination in international bodies. Both sides agreed to enhance their bilateral engagement in these sectors," said the government in a statement.
The PM will be participating in the plenary session titled 'Investing in a Better Future: Climate, Energy, Health' on the second day of the G7 summit in Germany.
He will also have bilateral meetings with South African President Cyril Ramaphosa, German Chancellor Olaf Scholz, Indonesian President Joko Widido, EU Commission President Ursula von der Leyen and Canadian PM Justin Trudeau.
"Accelerating friendship with Argentina. PM@narendramodi held talks with President @alferdez in Munich. The two leaders discussed ways to deepen commercial and cultural linkages between India and Argentina," the Prime Minister's Office said in a tweet on Modi's first bilateral meeting on his two-nation tour.
Besides India, Germany, the host of the G7 Summit, has also invited  Indonesia, Argentina, Senegal and South Africa as guests for the summit to recognise the democracies of the global south as its partners.
Modi arrived in Munich on Sunday to take part in the G7 Summit. He will discuss issues like  food security, energy, counter-terrorism, democracy and  environment with the prominent leaders of the western countries.